Film scanner 4K-2K-HD "frame by frame" features and functionality
Our film scanner is multi-format; it accepts the films Normal 8mm, Super 8mm, Single 8mm, 9.5mm "Pathé Baby", 16mm, Super 16mm (positives, negatives, color, black-white, silent and sound movies), at the maximum optical resolution of 4K (new 2018)
This film scanner scans "in real time" up to 24 fps at 2K resolution.
The system uses Sony scan sensors with native resolution 4.096 x 3.000 px. Lenses are macro apochromatic "Schneider Kreuznach".
The light source

consists of 24

high intensity

flashing RGB LEDs

, adjustable individually by microcomputer.

The film conveying system is

"Sprocketless capstan"

with no sprockets or jaws

. This technology enables scanning even damaged films or films deformed by time.

The film tension is adjustable

during the scan, depending on the type and condition of the film.

The film is

perfectly stable during scanning.

The film is cleaned with 2 rollers

(Kodak PTR roll)

 that remove any residual dirt "a moment before scanning".

Scanning under

liquid

 is used to reduce the visibility of scratches and grooves of the film*.

The film is

scanned in real time (16 fps – 18 fps – 24 fps) up to 2K,

including simultaneous soundtrack acquisition

.

Possible optical resolutions for scanning are:
4K cinematographic 4096 x 2160 px. – 4K television or Ultra HD 3840 x 2160 px. – 2K 2048 x 1080 px – HD 1920 x 1080 px.

Balance, color correction, exposure, and dynamic range may be automatic, controlled by microcomputer, or with completely manual control

*

.

Color correction, exposure and dynamic range are possible scene by scene*.

Frame acquisition is possible "over 100%" with edges, line spacing, perforations, etc.*.
The film scanner can scan films in different modes:
Scanning frame by frame 

(

individual frames

)

 in Dpx, Bmp, Tiff 16bit, and Jpg 8bit format.*

Scanning frame by frame and encoding in

uncompressed

AVI

format. 

Scanning frame by frame and encoding in

ProRes 4:2:2 10 bit

* format.

Scanning frame by frame and encoding with 

codec lossless

 

GrassValley

 

HQX 4:2:2 10 bit

.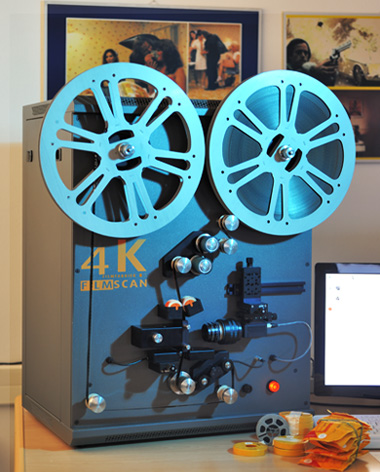 Soundtrack Acquisition:
The film scanner can acquire these types of soundtracks:
The magnetic mono audio track and optical soundtrack of 16mm films.

The main magnetic mono audio track of Normal 8mm, Super 8mm, and Single 8mm films.

The compensation magnetic sound track of Super 8mm films.

The optical soundtrack in some Super 8mm films. *
After scanning, the film can be digitally restored; these are the main options*:
Manual level optimization

Digital removal of dots and residual scratches.

Reduction of film grain.

Removal of vertical scratches.

Digital Image Stabilization.

Sharpness improvement.
For professional needs, works with
"Davinci Resolve"*
are possible.
Delivery of telecine files:
The standard delivery of telecine HD 1920×1080 is on ".mov" Quicktime HD H264 files.
Delivery on BluRay Disk* is possible.
Other formats are available for professional needs.
*: Options on request
All processes are described to provide correct information about technical possibilities, but must be arranged according to the movies conditions and needs of the customer.